Back in the spring of this year, I purchased the Genesis framework along with the Prose child theme because I was looking for a premium theme that I could customize for a couple of my own websites.  Two of these websites were new ones and one was an existing website.  I figured if it went well for the new sites, then I would look at changing my existing site over to Genesis and one of the child themes.
After purchasing Genesis and the Prose child theme from Studiopress, a number things happened in my life including losing my primary job.  While preparing to start my own tech business, I used this time to learn a little more about this framework and the Studiopress All-Theme Package (called Pro-Plus Package at that time).  This information along with a number of potential tech clients asking if I could do website development prompted me to purchase the All-Theme package.  Also, the fact that Studiopress was going to raise the packaged price from the $249 price to $299 did not hurt either (a good time to purchase).
WordPress Experience
I had used WordPress and customized some free themes since the beginning of 2009 when I set up my first WordPress website.  I had some exposure to style sheets, php code customization, and theme layout during this time so I was not a total newcomer when I purchased and started working with Genesis and their child themes.
The development of our Ironclad Tech Services website was my first complete experience with Genesis and child themes.  In my office, I have an older Linux computer setup for WordPress website development using BitNami and had worked with Genesis and reviewed most of the child themes in this environment before actually working on our Ironclad Tech Services WordPress website.
Genesis Framework Review
I am really excited about the possibilities that WordPress, but specifically the Genesis framework, brings to our tech business and the services we can provide our customers.  With that said, I would like to provide a little more in-depth look at the Genesis framework and the use of child themes.
First, purchasing and downloading Genesis and the child themes was extremely easy and user-friendly.  Also, the installation of Genesis and one or more of the child themes was straight-forward and  installed like any other theme using the WordPress dashboard.
My changes to the Genesis framework and to the child theme were done on an active website, but I also have tested Genesis on a development computer.  There were no noted problems working with Genesis in either environment.
The Genesis framework gives the individual or developer a variety of configuration options regarding the theme and SEO.  I also used a couple of Genesis plugins that that made adjustments to sidebars, hooks, and sliders very easy.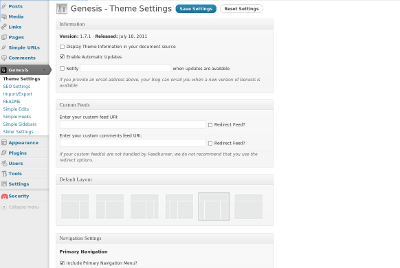 For the Ironclad Tech website, I started with the Lifestyle Child theme.  The number of configuration options built into the child theme as well as the layout fit what I had in mind for the Ironclad Tech site.  The Lifestyle Child theme had a number of areas that allowed the use of widgets so it did not take much effort to customize it.

Changing the default background of the child theme was not difficult.  While a number of backgrounds are built into the Lifestyle Child theme, we chose a graphic that we imported and set as the background.  This was not hard and took no prior technical knowledge to perform.
The one item that I I did not like about the child themes (including the Lifestyle Child theme) was that there was no easy way to import a logo so that the header would have the title and tagline of the website along with the business logo to the far left.  I later found that it can be done with some changes to the code and the style sheet, but it would be nice to have this ability without going that route.  The route I finally took was to insert our logo, business name, and tagline into one of the headers using a graphic program called the GIMP (LINK TO).  Once completed, I just uploaded the custom header and made it the default header for the site.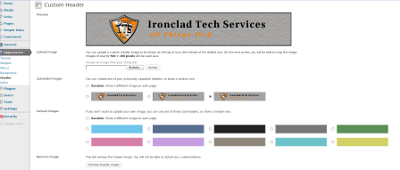 Genesis Conclusions
My initial assessment of the Genesis framework and their child themes is positive, but there is a learning curve whether you purchase just Genesis, Genesis with a child theme, or the All-Theme Package.  Don't think you can just click a few things and have the site looking how you want.  The support forum and tutorials are great, but it does take some effort to learn and understand the material, especially if you are new to WordPress or theme customization.  Even with my computer background, it still took time to figure it all out.
If you are a person that is looking for a premium theme to make your site stand out but don't want to spend the time navigating the learning curve, I would recommend that you get Genesis and purchase a child theme (must be compatible with Genesis) that already has the layout and appearance that you like.  Another option is to purchase the Genesis framework and a child theme you like and have someone else do the customization of the child theme for you.
If you like to learn and do some tech tinkering, the Genesis framework with the variety of child themes available is a great way to go.  If you want a premium theme in which you can just click a few things and have it set up and looking the way you want, I would not recommend that you go the Genesis framework route.  Studiopress does now have a marketplace that allows you the opportunity to buy already customized child themes at a very reasonable price.  One of their custom child themes may fit your WordPress needs.
If you are a WordPress website designer, I would recommend the All-Theme Package.  It has allowed me to develop a custom site in a short amount of time.  I even added a custom color scheme that would match our business logo that did not require many changes to the style sheet or code to implement.  Actually, I have taken almost the same amount of time creating content for the site before we went live as I did in customizing the child theme.
Good luck and let me know (leave a comment) what you like and dislike about Genesis as you use the framework and child themes.