Ironclad Tech Services opened for business in August of 2011.  We are a local company, serving Central Kentucky, that provides a variety of tech services to both business and residential customers.  Our mission is to provide quality computer and technology service as well as excellent customer service to all our customers.
Ironclad Tech Services primarily provides on-site services to our customers.  In order to save our customers both time and money, we make house calls.  We are available via phone to our local customers during normal business hours (Monday – Friday 8am to 6pm EST) and through our contact form  for on-line customers 24/7.  Please leave us a message and we will get back to you promptly.
The Ironclad Tech Services website provides information covering a wide variety of computer and tech issues.  These include but are not limited to Windows, Mac, Linux, WordPress and WordPress Websites, Social Media, Laptops, PC's, Tablets, Mobile Phones, Search Engine Optimization, and Security.  Please remember to subscribe to the site to make sure you are notified when new information is posted.
It is our intent to provide you, our customer, with useful tech information through this website so that you will be able to use and enjoy your technology devices.  When they give you headaches, however, contact us here at Ironclad Tech Services to assist you with setup, installation, service, repair, and preventive maintenance for all of your tech devices.  Remember, Ironclad Tech Services is your on-site headache doctor!
Profile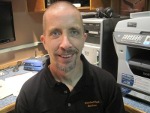 Ironclad Tech Services was started by Sean McCreary, a tech lover and blogger.  He has been working in the security field for over 20 years and has been involved with computers and other technology for over 10 years.  Linux has been his primary operating system since 2004 although he has extensive experience with both Windows and Mac.  Also, Sean has been a blogger using WordPress since 2009.  Recently, he also received his Amateur Radio License.
Contact
Contact us using this contact form or call us directly at 502-859-3113.