Ironclad Tech Services is now on Facebook.  Follow us on Facebook.com/Ironclad Tech.  Don't forget to click the Like button on the top of the page when you get there.
Ironclad Tech also has our own YouTube channel at YouTube.com/IroncladTech.  Come on over and see the helpful information and screencasts we have for you.  Don't forget to subscribe to our channel when you get there.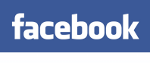 You can reach us at Facebook and YouTube using the links in this post or by clicking the YouTube and Facebook icons that are in the "Follow Us" section on the right sidebar.
If you like what you see or have suggestions, please leave a comment.